Graphic novels and comic books are an oft-overlooked genre for young adult readers. Thoughts of superhero comics or picture books may deter readers from exploring the visual medium of literature, but in 2021, graphic novels and comic books are so much more than that. The 2021 U.S. Book Tour featured 8 of the most anticipated forthcoming graphic novels and comics, all of which are promised to be emotional, important stories. Featuring authors, illustrators, and editors from all different backgrounds, the U.S. Book Tour's panel proved how diverse the genre of graphic novels can be, past the preconceived notions. The following titles are ones you should look out for on the shelves in the next few months as a way to expand your literary horizons.
The Eightfold Path by Charles Johnson and Steven Barnes
The Eightfold Path is a graphic novel anthology featuring a series of interconnected stories centered around Buddha's teachings and influenced by some of pop culture's most iconic works. From The Twilight Zone to The Canterbury Tales, The Eightfold Path is a contemporary take on the enlightenment teachings of Buddha, all in a graphic novel form. Lauded authors Charles Johnson and Steven Barnes teamed up with illustrator Bryan Christopher Moss to create a story of 8 travelers who, trapped in a cave, tell stories from their life which represent elements of Buddha's teachings of enlightenment. The Eightfold Path is a loving combination of genres, themes and art to tell a story unlike anything before. This graphic novel is perfect for anyone wanting to read across multiple genres and find a new approach to spirituality teachings. The Eightfold Path hits shelves on January 4, 2022. You can find more information here.
Himawari House by Harmony Becker
Aimed toward a young adult audience, Himawari House is the forthcoming graphic novel by author and illustrator Harmony Becker. Centered around three foreign exchange students, Himawari House explores cultural connections and heritage in Japan. Nao, Hyejung and Tina are the three main characters of Himawari House, and each character has a unique journey as they experience Japan through the eyes of students studying abroad. This graphic novel is perfect for readers who love coming-of-age stories and crave travel in quarantine. Becker's novel is also a story worth checking out for readers who enjoy cultural stories that explore the nuances of adapting to life abroad and reconnecting to family traditions. Himawari House comes out on October 19, 2021. You can find more information here.
Magical Boy by The Kao
Another YA pick, Magical Boy is a fantasy approach to the classic comic style. Max, a trans boy, is trying to get through high school, balancing his classes and life. Magical Boy becomes more than a slice-of-life story, however, when Max finds out he's descended from a long line of magical girls, designated to save the world. As the next in line, Max navigates how he can become the first magical boy of his family and save the world. Inspired by teen mangas and the magical girl genre, The Kao utilizes a contemporary and heartfelt approach to bring Magical Boy to life. This comic series is best for anyone looking for an inclusive, exciting fantasy story inspired by some familiar manga favorites. Magical Boy, Volume 1 will be available for purchase on November 2, 2021. You can find more information here.
No One Else by R. Kikuo Johnson
No One Else is a heavy, highly emotional work of literary fiction in the form of a graphic novel. R. Kikuo Johnson's follow-up work to 2005's Night Fisher, No One Else centers around divorced mother Charlene and her son, Brandon. The story follows the pair after they experience tragedy that leaves them alone until Charlene's brother Robbie returns to their life after not being in it. No One Else is an emotional exploration of life beginning again through grief, heartbreak, and fresh starts. This story is recommended for older readers who are prepared to read about and process difficult subjects in an artistic and literary medium. No One Else will be available on November 9, 2021. You can find more information here.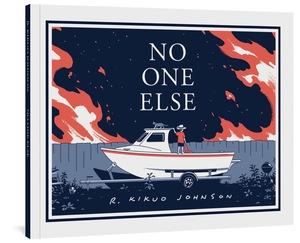 Image via Fantagraphics.
Passport by Sophia Glock
With the unique angle of being a graphic memoir, Passport is an example of the versatility of the graphic novel medium. Intended for a teen and YA audience, Passport traces the life of Sophia, who has lived in more countries than she can count. She struggles with identity, living abroad as an American, despite the fact that very little of her life is spent on American soil. While living in Central America, however, she discovers a secret: Sophia's parents work for the CIA. Passport follows Sophia as she uncovers her parents' secrets and the way their identities have impacted her life. Perfect for any YA readers interested in a true, compelling story, that feels like fiction, Passport is slated to hit shelves on October 19, 2021. You can find more information here.
Power Born of Dreams: My Story is Palestine by Mohammad Sabaaneh
Written and illustrated by Palestinian political cartoonist Mohammad Sabaaneh, Power Born of Dreams is a graphic novel that incorporates Sabaaneh's own experience. Influenced by his time spent as a political prisoner, the graphic novel uses Sabaaneh's linocut-style to explore life from within an Israeli prison. Power Born of Dreams delves into family histories, community stories, and the perspective of Palestinians living in Gaza. Sabaaneh's intention with Power Born of Dreams is to portray Palestinians "not as superheroes or political symbols," but as Palestinians. Power Born of Dreams is intended for a mature audience and perfect for anyone interested in stories of community and finding identity in one's culture. Power Born of Dreams: My Story is Palestine debuts on September 21, 2021. You can find more information here.
The Unfinished Corner by Dani Colman
Written by Dani Colman and illustrated by Rachel "Tuna" Petrovicz, The Unfinished Corner is a YA graphic novel centered around Jewish mythology. Miriam, age 12, is struggling with her identity and knowledge of Jewish mythology just as she's transported by a mysterious angel to the Unfinished Corner, full of mythological monsters and legends. Alongside her two best friends and frenemy, Miriam is tasked with the enormous mission of finishing the Unfinished Corner. The graphic novel explores themes of identity as Miriam finds herself while attempting to save the universe. Perfect for teen and YA readers who are interested in mythological stories or coming-of-age novels, The Unfinished Corner hits shelves on October 19, 2021. You can find more information here.
The Waiting by Keum Suk Gendry-Kim
The Waiting is a hard-hitting, historical and literary fiction work inspired by Keum Suk Gendry-Kim's mother, and the stories she told her about being separated from her sister during the Korean War. Gendry-Kim interviewed both her mother and other Koreans who were separated during the war in order to craft The Waiting, which follows the fictional Gwija and her daughter, Jina. Gwija, who was separated from her husband and son during the war, has been isolated from them for 70 years. Jina, intrigued by her mother's story, aims to find her brother. Translated by Janet Hong, The Waiting is an emotional reflection on the realities of history and the lasting impact it has on families. The Waiting is intended for mature readers and is the perfect fit for anyone interested in a realistic-fiction story that deals with difficult subjects. The Waiting will be available on September 14, 2021. You can find more information here.
Featured Image via Unsplash.