It's one thing to say that GOT has become worldwide, but it's another to put into terms that the premiere reached an astonishing number of 17.4 million views. In this week's episode, we see more reunions (including a more comforting one between Arya and the Hound), and characters trying to right their wrongs (including both Jaime and Theon). Moreover, there is lots of drinking, planning, preparation and reminiscence of the past and of the dead. It can be confirmed that Arya does not die in this episode and that Maisie Williams' interview with Jimmy Fallon really was just an April fool's prank.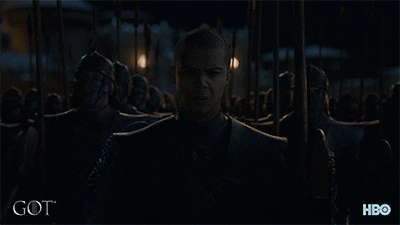 In this episode, we see Arya (Maisie Williams) and Gendry (Joe Dempsie) finally getting together, and I'm not sure how I feel about it! The last time they were together, she was undercover as a little boy in the brotherhood, and he is an adult. Now, they are together, and I'm not sure whether I should ship it or feel weird out! Ongoing, regarding the White Walkers, Arya does not seem to believe Gendry when he says they are dead and much worse. I think this ignorance about the extent of the White Walker's power might be the downfall for herself and many other characters. Furthermore, Jaime's (Nickolaj Coster-Waldau) arrival proves to be somewhat successful as he is defended by Brienne (Gwendoline Christie), who argues him to be trustworthy. His claim that he much rather fight for the survival of the living, then for his love of Cersei (Lena Headey), feels almost too good to be true. He has after all gone through a personality change of being selfish and arrogant to thoughtful and apologetic of his wrongdoings (including to Bran, and Dany). Even better, Jaime becomes in service to Brienne and gives her the title of 'Knight of the Seven Kingdoms'. Regarding the tension between Sansa (Sophie Turner) and Dany (Emilia Clarke), they manage to resolve it for a few minutes due to finding a commonality being Jon Snow (Kit Harington). However, Dany makes no guarantee that she will give Sansa the North, when she has the Iron Throne. This results in further tension between the two due to the power struggle. Moreover, the moment we have all been waiting for: Jon Snow confronts Dany about who he really is (Aegon Targaryen). Surprisingly, the familial connections are the least of her concerns regarding their love. Instead, due to her power thirsty manner, Dany seems to be more concerned about the fact that he is male and more of a 'true heir to the throne' than herself, again interfering with her extent of power. Lastly, the episode ends with a glimpse of the extended army of White Walkers, confirming that those in Winterfell are largely outnumbered.
Within this episode, the tone remained mainly mellow, despite the occasional jokes between characters that served purely to add to the heartbreaking fact that many of our favourite characters are going to die- this is Game of Thrones after all. Director David Nutter and writer Bryan Cogman expressed this tone through a mixture of cinematic techniques including the screenwriting, music and the use of colour. The writing, in particular, emphasised this sad realisation through the events and dialogue. The episode succeeded in including nearly all our favourite characters, in different events and conversations. Sadly, the majority of the characters seemed to be aware that they won't survive. Moreover, the lack of colour adds drastically to this episode. For example, the episode was filled with a range of dark and sombre colours, that only contrasted with the brightness of the snow, and the red leaves. The use of these colours emphasised the mood of the episode, and almost served as a reminder of what is to come. Furthermore, regarding music, we experienced a heartfelt moment where Podrick (Daniel Portman) sang, whilst the characters enjoyed their last night together. The lyrics of the song, Jenny of Oldstone, is partly taken from one that is written in the books, and partly remade by Ramin Djawadi. It is later covered beautifully by Florence + the Machine. Moreover, regarding the plot, GoT, always succeeds in presenting realistic imagery, despite it being purely fictional. For example, from the first season are presented with deaths of beloved characters. This sense of realism almost reassures us that they won't try to pull something off that is ridiculous. As John Bradley says in his interview with Heatworld at the Belfast premiere, we might not be happy with the ending, but we will definitely be satisfied.
To conclude, I believe that this would have been a more successful season premiere, despite the last episode being somewhat necessary. Though it lacked action, it did succeed in getting us all a bit emotional and also excited for next week. Moreover, this episode has left many questions remaining including:
Can Jaime truly be trusted not to betray them?
What is Cersei's plan, now that it is clear she lied about sending troops?
Is Cersei planning on attacking them when they are most vulnerable (aka when they are in a battle with the White Walkers)?
Furthermore, something that I realised within this episode is: where is Melisandre/the Red Women (Carice van Houten)? Her last appearance was in season 7 episode 3, and yet she did not leave due to ill fate. She simply left to avoid confrontation between herself and Jon Snow. Therefore, could it be that she will have a major role to play in this last season?
Finally, within the preview for the next episode, it can be confirmed that the battle will commence. However, we again (like in the season's trailer) see Arya running from something in the Winterfell crypts, but what from?
Moreover, Arya made a brief mention of the 'many faces' and we also saw her scars, so when will she put her abilities to use?
The next episode airs at HBO (US) on April 28th at 9 pm EST, and on April 29th on Sky Atlantic and NOWTV (UK) at 2 am BST.
Images via IMDb.